WIC Shopper
WIC shopping, simplified.
Remove Uncertainty.
The WIC EBTShopper mobile app enables WIC participants to verify the WIC eligibility of items while shopping. In many states, EBTShopper can load the participant's current WIC benefits, allowing them to know with certainty what they can purchase using the benefits remaining on their card.  EBTShopper doesn't just tell you if an item is WIC eligible, it tells you if it is WIC eligible for YOU with your remaining benefits.
Download EBTShopper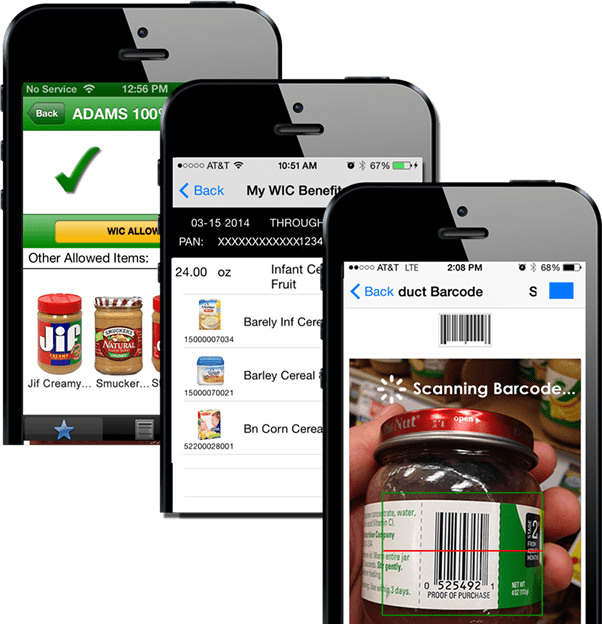 No more paper
Printing your balance and keeping track of receipts is no longer necessary.
Scan to verify
Scan products while you shop to verify that they are WIC eligible for YOUR benefits.
Mission
Our mission for EBTShopper is to extend the resources and objectives of the WIC program beyojnd the walls of the clinic by building innovative solutions that benefit the participant, retailers and state WIC agencies.
Maximize your benefits
Knowing what you have available will help you to maximize your benefits each month.
Eliminate disputes
Since you have pre-checked your products, you can expect smooth sailing when you get to the register!
Retailers
Retailers have a unique opportunity to have a helpful presence on an app that is used each time your customer shops.  We know of no other shopping application that can offer this. Supported retailers add significant value to EBTShopper.  Providing us with your WIC eligible products allow us to present a concise list of eligible WIC items for each of the participant's categories.  You can even provide aisle locations. Give these young families a reason to love you and they will love you right back.
Learn More
How it works
In all of our supported WIC programs, you can use your phone to scan products to check their WIC eligibility. In Florida, Kentucky and West Virginia, you can simply (and securely) register your WIC card, then automatically download your CURRENT benefits every time you shop!  EBTShopper doesn't just tell you if the product is WIC eligible - it tells you if it's WIC eligible for YOU and if you have the remaining benefits to purchase it. 
Watch this video to see how EBTShopper works.
It's just a few minutes long and there is music.
---
What WIC Participants are saying
Contact Us
Want to get your state on EBTShopper?  Like what we are doing and want to be a part of it?
Contact